Place orders from Monday 6:00 AM thru Tuesday 9:00 PM for Thursday afternoon Pickup!
Plants - Gallon Pots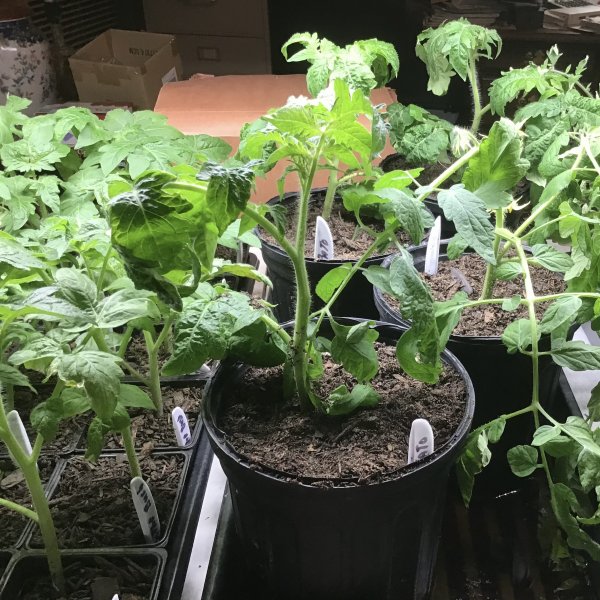 Patio Tomato - Hybrid, is excellent for containers and small gardens, bearing tasty 3 to 4 ounce tomatoes on strong, compact plants that grow only 2 feet tall. The short stems generally do not need much staking at first but it won't hurt to stake or small cage to keep them upright in wind and rain.

Container Choice Red Hybrid - Good patio tomato, 6 to 8 oz flattened, beefsteak-type fruit.
Sun Sugar Yellow Cherry Tomatoes - Yields 1/2 to 3/4 oz orange cherry tomatoes. Sweet, juicy and flavorful with thin skin.

Funny Plum Cherry - Plum shaped, 8" tall, fruit ripen early and are deliciously sweet and easy to pick. Great patio plant. Do not over water.

Unicorn Cherry - Bite Size, crack resistant punch. Ideal for snacking and salads.

Brave Heart Cherry - Thin skinned, rich, meaty, sugary, juicy flavor. Harvest season lasts all summer.

Roman - Classic Italian Type, Bright scarlet, plum-shaped fruit, meaty with few seeds 1 oz. Good for paste, canning and sauce.

Better Bush - 48" height with very little need for staking. Produces big 4" fruits weighing 8 oz. Mouthwatering, sweet and meaty.


Website and Online Farm Store Powered By
Eat From Farms