Plants - Tomato - 3" Pots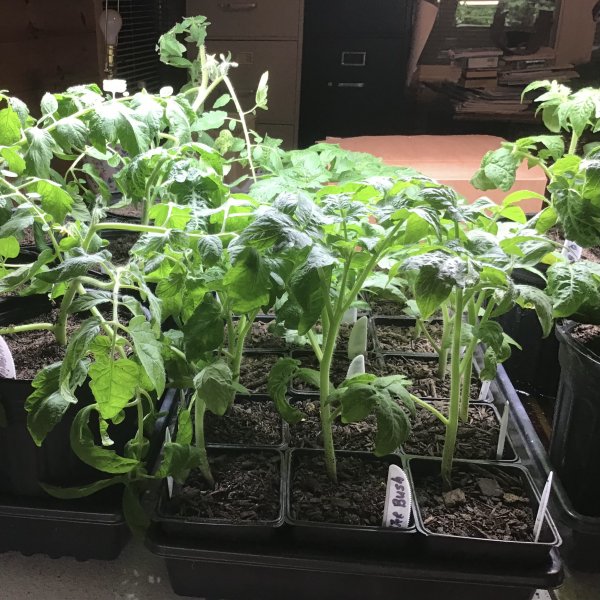 Red Robin Cherry - 8 to 12 ' high, bears 1 to 1-1/4" red fruit. Can be planted in a Hanging Pot
Big Beef - The large fruit has old-time tomato flavor and the vines are resistant to many of the problems that can discourage gardeners. The fruit is borne on vigorous, indeterminate vines from summer until frost.
Early Doll - 55 Days. Every gardener needs a variety like this one - early and packed with flavor. Produces 4 to 5 oz. bright red, globe shaped fruit that is excellent for fresh use in salsas, salads or slicing. Determinate.

Cherry Tomato Sun Sugar Yellow - The SunSugar Tomato is an early maturing cherry tomato with a high sugar content that is a customer favorite for a reason! These beautiful cherry sized orange tomatoes will be the first tomato to harvest in early summer. Every 1/2 oz. fruit has 3 times more vitamin A found in most other red tomatoes.

Little Bing Cherry - 24" Tall, produces lots of tomatoes in a period of a few weeks for a large harvest, 1" Flavor filled red cherry tomatoes



Totum Cherry - 18 to 38" tall, Medium round fruit, 10 pounds per plant

Germania Kiss Cherry - 24 to 30" Tall, Golf gall size fruit, 1 ounce each.

Better Bush Tomato - Red - This is a great choice that bears sizable fruits on a very compact plant that works well in containers and small gardens. Especially strong, bush plants bears truly tasty, medium sized tomatoes great for sandwiches and slicing.

Container Choice - Patio Type Tomato, Yields bright red, 6 to 8 oz flattened, beef steak-type fruits.

Beef Steak - Large flattened and red, 2# each, excellent slicer, with a rich sub-scid flavor

Roman - Classic Italian Type, plum-shaped fruit, meaty with few seeds, Great for paste, canning and sauce.

Cherry Tomatoes Brave Heart Red - Thin skinned, unlike those leathery supermarket cherries, and it's just bursting with rich, meaty, sugary, juicy flavor. Great disease resistance is the secret to Braveheart's yields, you get more fruit on every stem, and the harvest season last all summer.